5 Tips For Designing Your Home Office
Posted by Jessica Kane on Sunday, April 28, 2019 at 6:53 PM
By Jessica Kane / April 28, 2019
Comment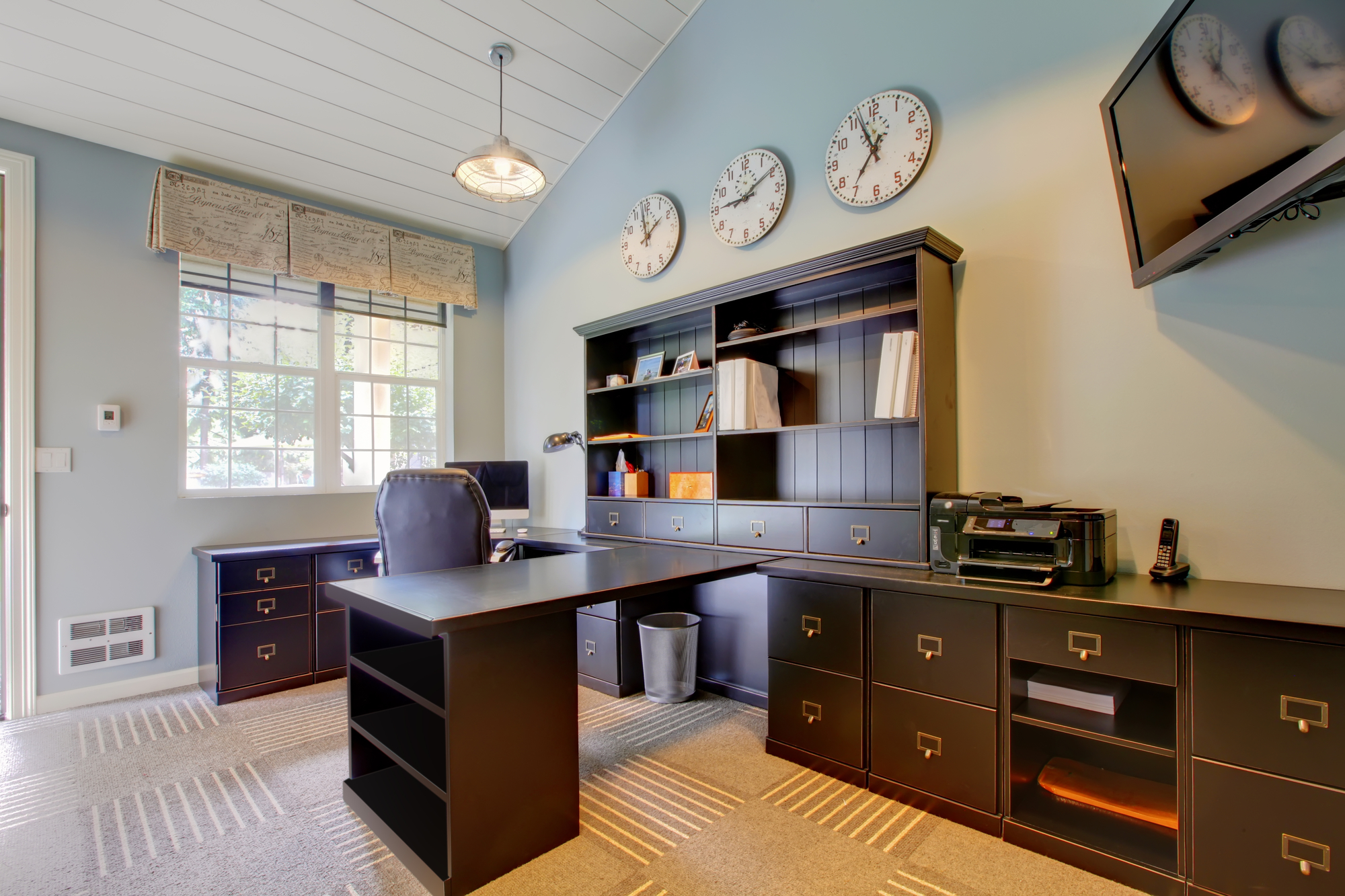 There are millions of people who work from home, and they spend a good portion of the day in their home office. Looking at a computer screen surrounded by clutter with unsightly walls can drive a person bananas after a while. Your home office should be functional as well as cosmetically appealing because the same four walls day-in and day-out can actually get depressing and cause a lack of motivation.
This guide is going to provide five tips for designing your office and why change is a good thing. Most of the ideas and tips are DIY projects and can be done in your spare time. If you're not sure about some of the construction techniques, you can always ask a friend, hire a contractor or there are plenty of video tutorials on YouTube that provide step-by-step instructions. Here are the five tips:
Tip 1: Remove Clutter and Organize
One of the first things to do is to remove clutter in your office. The box of printer paper on the floor that's been there for a year and printer stand that has become a visual junk-drawer with a collection of goodies has to go. Working in clutter can actually have a lot to do with your mood swings, and by removing and organizing your space it can increase productivity.
When you walk into a professional office in the real world, you don't see 10 pairs of shoes strewn all over the place, dog bones from two months ago, dirty laundry in the corner, and dust-bunnies the size of golf balls rolling around? The same professional atmosphere in the real world needs to apply to your home office. This is where you make your money and provide for your family. An organized home office makes finding important documents and misc items easier, and it really makes you feel better about yourself.
Tip 2: Painting
If you've been looking at the same four walls for five years or more, it's time for a change. Painting your office with whites, pastels, and off-white colored paints are the best choices for a brighter and more vibrant working space. This is a DIY project, and it can be done over the weekend and for about $200 or less.
Step 1: Remove as much furniture and items as possible. Larger items can be placed in the center of the room and cover them with a drop cloth as well as the floor. Remove everything off the walls and use a 1000W halogen work light to see all of the holes and imperfections on the walls and ceiling.
Step 2: Use a small six-inch mudding knife and apply drywall compound to fill in the imperfections. Let it dry over night, then lightly sand flat with a drywall sanding sponge. Apply latex primer on the spots and let it dry. Then, apply one coat of primer on the ceiling and walls.
Step 3: One of the best washable interior latex paint for walls is semi-gloss; however, if you're not the most experienced painter, use a washable-flat or eggshell paint because semi-gloss is notorious for showing roller lines if you don't know how to apply it. The trick with semigloss is to not roll wet paint over semi-dried paint, once you start a wall, finish it one vertical roller line at a time with back feathering as you go. Depending on how well your paint covers, apply one to two coats of finish paint until it looks flawless. For ceilings apply one to two coats of flat-white interior latex paint.
Tip 3: Suspended Ceiling
Upgrading your ceiling with a suspended ceiling has a lot of benefits. It's design allows for extra florescent lighting panels that fit right into one of the squares. You can add as many as you want; however, two to four lights is plenty for a home office. Extra lighting in your home office will take some of the glare away from the computer screen, it brightens up the room, and doesn't make it feel like you're working in a dungeon.
Additional benefits besides cosmetic are money saving, especially if you have a 10-foot ceiling. Lowering your ceiling will cut down on heating and cooling expenses because of the insulation properties of the fiberglass tiles. A typical home office is a DIY project, and it can be done for less than $300 and takes about a half of a day to install.
Tip 4: Install a Window
If your office doesn't have a window, this is a great design idea. Installing a window allows for natural light and provides fresh air as well as heating and cooling benefits. Placing your desk in front of a window, and looking outside as you work will dramatically change your mood as well as give your office a new look.
This is not a typical DIY project for the average homeowner with limited carpentry skills. There are a lot of different factors involved when installing a window. It needs a header and sill plate installed into the framework, and it affects the interior as well as the exterior. This a job for someone who knows what they're doing.
Tip 5: Out With the Old and in With the New
You work hard, so why not reward yourself with some new office furniture. If you've gone through all of the trouble of remodeling your home office, putting your outdated furniture back in it is not doing your new home office any justice. Get yourself a nice computer desk and office furniture that accommodates the space you have and matches your new design.
Everything you do in your office is a tax write-off. Save your receipts and give them to your tax accountant. You can design your home office into your own personal sanctuary and change how you feel about going to work.