11 Tips to Enhance the Livability of Your Patio
Posted by Jessica Kane on Monday, April 29, 2019 at 8:35 AM
By Jessica Kane / April 29, 2019
Comment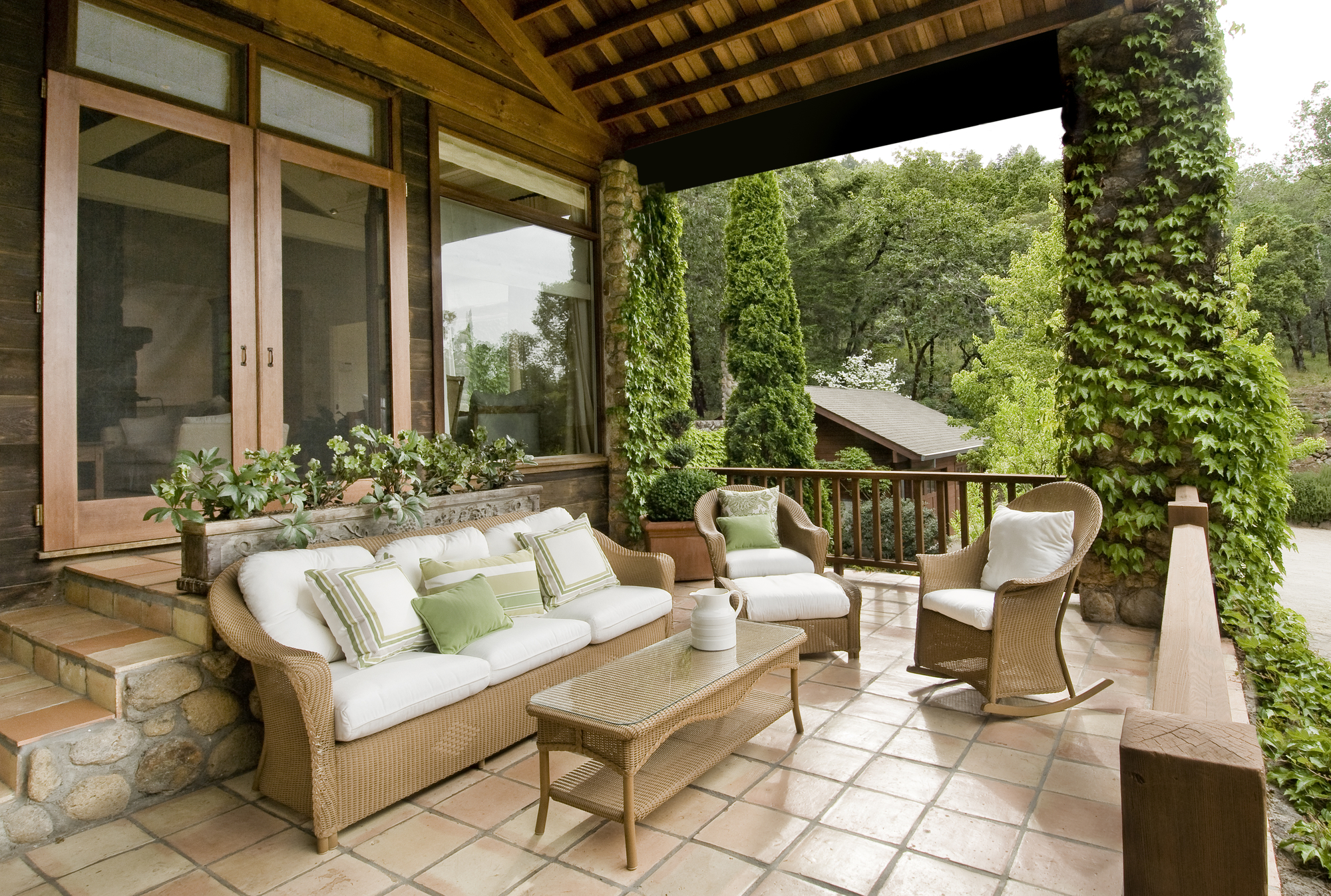 The patio at your home can become the most favored space at your residence. There are 11 strategies you can employ in order to make your patio the place in your home where family members and guests will want to congregate.
Create a Private Space
When it comes to truly being able to take full advantage of a patio, from relaxing to entertaining, keep in mind the importance of privacy. In other words, you really do not want your neighbors and others to have a proverbial bird's eye view of your patio.
The most basic way in which you can secure the privacy of your patio is to plant hedges or install some type of fence or wall about the space. You can also plant a tree or trees that will grow to a decent size as part of your effort to make the space private. A tree of this nature also provides a relaxing space outside where you can enjoy the day by lounging about.
A sense of privacy can also be enhanced based on the type of foliage you plant near your patio, in addition to trees and a hedge. For example, you can plat bright flowers to the sides of your patio. These vibrant blooms tend to draw attention to themselves and away from the patio.
Utilize a Creative Shape for Your Patio
Your patio need not be a standard rectangle or square. Rather, you can utilize concrete pavers and develop a truly unique, distinct shape for your patio. As an aside, you can even use pavers of different sizes to add an even more significant level of distinction to the space.
Consider the Cottage Style at Your Property
The cottage style is a much-appreciated comfortable look for a patio. At its essence, the cottage look incorporates older materials and what oftentimes is called romantic plants. Plants used in a cottage style setting include hydrangeas and violas.
Examples of what can be done to enhance a cottage look include using old landscape timbers to assist in the creation of a retaining wall. The cottage style can also incorporate weathered furniture to establish a warm, comfortable look -- even in the mist of a heart storm.
As an important aside, you need to make certain that taking a cottage style approach with your patio will compliment the overall design of your home. Failing to ensure that there is this harmony will result in a patio that stands out in an unfortunate way at your otherwise lovely home.
Create a View from Your Patio
Privacy is a key element of creating a perfect patio, as was just discussed. However, you don't want to go overboard when it comes to privacy that you eliminate any possibility for a pleasant view from the patio
In making certain that your patio has a great view, consider designing and planting a vibrant garden that can be seen clearly from the patio. You might want to install a fountain, which not only adds something pleasing to the view but also creates a lovely background sound.
Select Lush Foliage
In regard to plants associated with your patio, consider creating something of a botanical garden experience. This can be accomplished by adding pots and planters here and there on your patio, containers in which you plant lush plants of different types. A vine covered trellis can also be a marvelous addition to your patio.
Ensure Easy Accessibility
You definitely want to make certain that your patio is as readily accessible as possible, both from inside and outside of your home. No matter an interior or exterior entry point, it want access to be as easy and obvious as possible.
As a side note, nearly all people have at least one person in their lives that have some sort of special physical need. Moreover, as family members, friends, and even you age, an accessible patio becomes all the more important.
Harmonize or Coordinate Your Color Scheme
When it comes to different aspects of your patio, you want to make sure that the selected color scheme or schemes not only harmonize among themselves but with the overall residence more generally. There is absolutely nothing wrong with being creative when it comes to selecting colors for different aspects of you patio. However, you don't want to be blinded by your desire for the creative use of color on your patio that you craft something that uncomfortably clashes with the overall color scheme of the residence as a whole.
Add an Artistic Flair
When it comes to designing an decorating your patio, consider truly artistic touches. For example, you might want to incorporate mosaic tile work somewhere on your patio. The lighting you select for your patio can also have a truly artistic feel and flair. Even the pots and planters you select for your patio can have an artistic flourish.
Make Your Patio a True Extension of Your Home
Create an ultra-comfortable space by adding the same comforts you enjoy in your living room.
-- Outdoor furniture with plush cushions provides a great place to relax.
-- A vine-covered pergola casts shade and provides protection from rain.
-- A stylish lantern suspended from the pergola adds extra light at night.
Keep It Simple
In designing and decorating your patio, there is a good deal to be said for keeping it simple. You don't want to overdo with anything associated with your patio. Overdoing can result in a cluttered, busy space that detracts from the objective of having a relaxing, comfortable area at your residence.
Add a Simple Workspace
If you are like many people, you spend some part of your professional life working from home. Consider some additions to your patio that can provide you the ability to enjoy a pleasant day outside even when you are working. You can create an attractive and yet practical work station on your patio.
By utilizing these strategies, you will end up with a patio that is the envy of the neighborhood. More importantly, you will have a patio that you truly will enjoy.