7 Tips for the Perfect Home Bar Design
Posted by Jessica Kane on Tuesday, April 30, 2019 at 12:27 PM
By Jessica Kane / April 30, 2019
Comment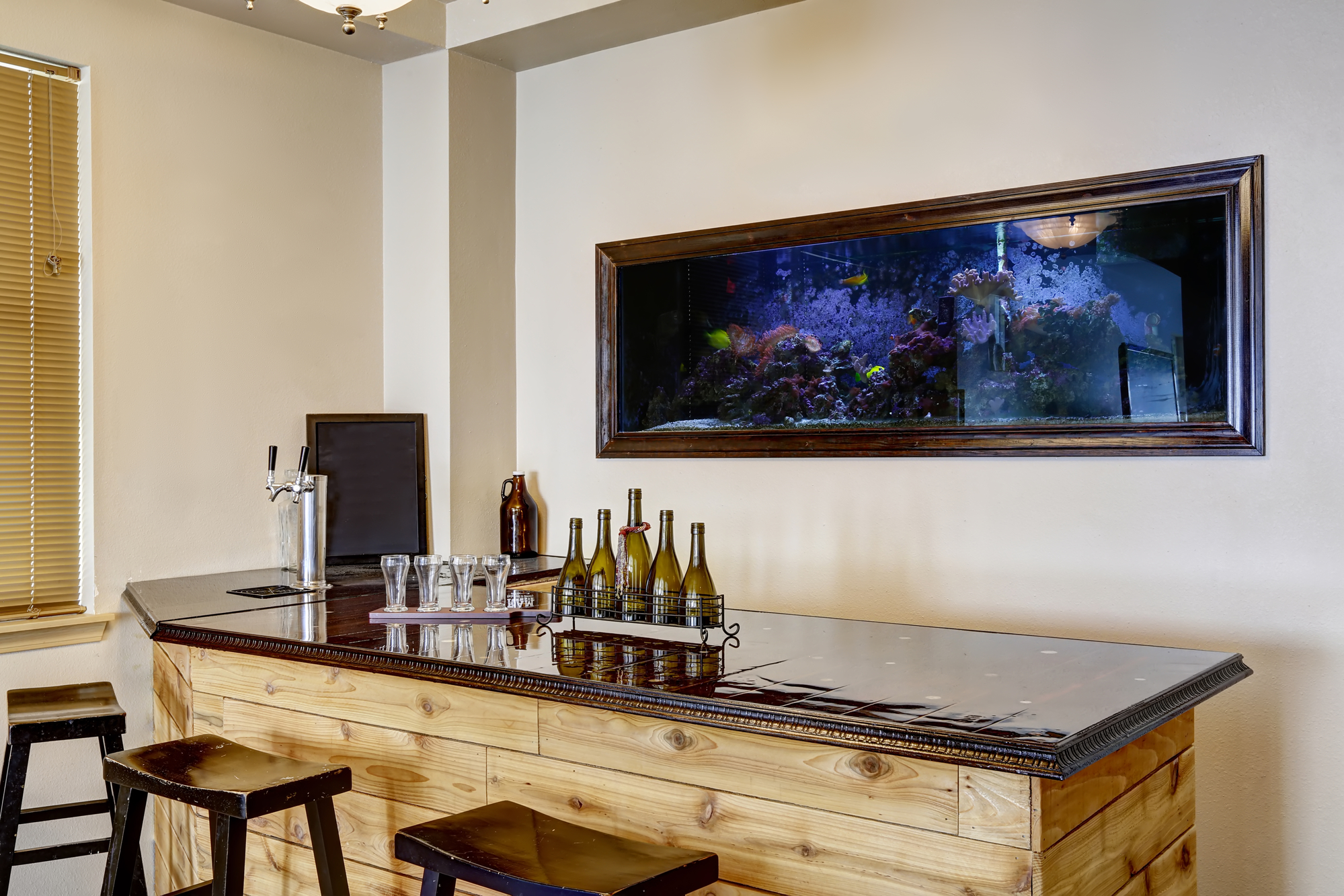 A home bar is something that's used for a number of various purposes. Some use a home bar as a way to unwind after working hard at work and others use it as a means of entertaining guests or as a place to hide away and watch a sports game. As you're designing a bar, many important aspects need to be addressed, but none are as vital as something like the lighting.
Lighting is going to make or break the visual functionality and appearance of any bar, so make sure you consider the following tips as well as some more general design advice.
Layer the Lights
This might seem like a term that's unfamiliar, but it's extremely easy to grasp. Layering lighting is pretty much just what it seems. It begins with a focus on three specific kinds of lighting while building on the previous layer to be complementary to the others. Begin with ambient lighting. This is the lighting, in general, that is going to provide the main origin of light for your bar. This can include track lighting, recessed lighting and wall-mounted lighting. Then concentrate on what's termed "task lighting." Task lighting will be the main help in finishing specific jobs. This might involve finding liquor bottles, cleaning glassware or mixing drinks in bar terms. The last layer is going to be accent lighting. It is the lighting for building that unique visual accent.
Bottle and Glass Display Lighting
When you take a look around the room the next time you're in your favorite bar, you'll probably see some kind of unique lighting features for the shelves to display the glasses and bottles. This could also the perfect practice for your home bar design. Due to the fact that it's the backdrop for your bar, it's the best spot to build an area with a unique visual appeal. See if you can change the direction or angle of the light and change the colors to spice it up. A nice choice to light up a backdrop is to use LED lights.
Sitting Space
Although the visual attraction of liquor shelves is typically noticed right away, it's crucial not to neglect the bar itself. Give your guests enough light for them to enjoy themselves while they're sitting at your bar. Track lighting and pendant lighting are the best choices due to how they won't take up counter space and will provide lots of light.
Mimic a Trendy Tavern or Your Favorite Pub
There are way too many bar materials and styles for us to name any one of them the best. Take a quick glance at various bar styles from across the globe and over the ages and pick the style that feels the most like home to you. Make sure to do this prior to making any huge purchases. Choose lights, materials, glassware and stools that reflect your choice of theme. You could also renovate walls, ceilings and floors to match your envisioned bar even more closely. Make sure to have at least a couple of features that allow your bar to be unique.
The Bar Does Not Need to Be Stationary
A mobile bar can be created with a wheeled cart! Wood, metal or glass bar carts are available in a broad range of styles and let you move the bar around easily depending on where the party is setup. You will not be able to include a lot of extras or appliances, but you'll save plenty of space. A mobile bar is also handy as a "satellite" when you have a big party and you need to have the crowd spread out.
Pick a Durable and Beautiful Surface
Do not skimp on the surface of your bar! It's the most hard-working and visible section of any bar. The classics will be great for this part such as granite or marble slabs. They can be quite expensive, but they'll provide a top-tier appearance for your bar and will last a lifetime (tile isn't as exciting for a bar, but it's definitely an affordable option). Dark and exquisitely grained wood can provide a warmer look that's more in line to conventional pubs. Modern and experimental bars have been applying glass, stainless steel and butcher block to use as bar surfaces. Stay clear of surfaces that can be scratched easily or could crack or peel given enough time.
Mix Recessed Lights and Classic Pendant Lighting
Pendant lighting that hangs off the ceiling can be a great conventional way of lighting your bar. Home bars look especially nice with a combination of three or four pendant lights right over the bar with enough space to allow for moving heads. Pick soft lights and low wattage bulbs to allow your bar to feel as if it's a pub-like area. Consider recessed lighting as well. The area for prepping drinks must have proper lighting like any kitchen prep area. Lighting under cabinets works just as well in bar spaces. With the ultra-adaptable LED lights of today, you could install lighting anywhere you want and change the color of the lights to mix up the mood.